About Hoffart Chiropractic
Delivering quality chiropractic care to Rocklin, Roseville, Lincoln and the South Placer community since 1991.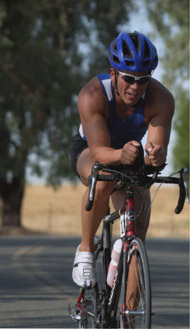 Our practice opened in September 1991 under a preceptor program with Dean Fallrick, DC. We chose Rocklin, CA because it was close to where I grew up in Loomis, CA. I wanted to be able to help my large family and friends. As a chiropractor in Rocklin it's great to see patients in our office that I have known since 2nd grade!
A Family Friendly Environment
At Hoffart Chiropractic we strive to create long term relationships with our patients. Our goal is to establish deep roots in the community. We provide a family atmosphere at our office like "old time" doctors of the past. We work hard to balance the professionalism and avoid a clinical sterility that is not conducive to real healing. We truly want patients to feel a sense of community.
Our Philosophy
We do not hire consulting firms that teach techniques to optimize the number of patients through the door. We treat people the way we want to be treated with honesty and a true concern for their well-being. Our goal is simple – improve function and decrease pain so the person or athlete can enjoy their hobbies, interests and life untethered by pain and dysfunction.
We work with a variety of clients – from my mom to World Championship bound Triathletes: Infants to Grandmothers, with injuries ranging from whiplash, lower back pain, carpel tunnel to ankle sprains. Chiropractic care is a safe, natural approach to better health.
I left with 100% more hopeful than when I entered… which sometimes is half the battle.

Dr. Hoffart exceeded my expectations in my first visit. I am extremely hopeful he is my last stop after a year of pain and frustration. I left feeling like i should have visited him years ago when I met him!

I really like the team here they really made my son feel at home and I would come back and I would refer another person that got into a car accident to this chiropractor.

Felt better after 1st visit with a pain free adjustment.
Chiropractic Techniques
Full-body Certified Active Release Technique (ART)
Atlas Orthogonal Provider
Gonstead Technique
Auto Accident Care
Help for Whiplash and Other Symptoms
Certified Accident Reconstructionist
Your Chiropractic, Health & Wellness option
We have balanced office hours to avoid burnout in the office and therefore serve our patients with greater passion and intent. Additionally, this allows ample time for family and health-preservation activities (exercise) for the doctor. Dr. Hoffart realized that his practice was a marathon and not a sprint. He has no intention of ever fully retiring and wants to practice Chiropractic for a lifetime.
MEET DR. HOFFART »
Contact Hoffart Chiropractic today!
Regardless of your health goals, please understand that we see ourselves as mere servants. You're the boss! It's our job to do a dynamite and focused exam to find out what the problem is. Then we will "Give it to you Straight" about what you need… offering the finest in chiropractic care available.
Ready to get started? Contact Hoffart Chiropractic today to make an appointment!
---
About Hoffart Chiropractic | (916) 632-8315