Hoffart Chiropractic Reviews
What Our Rocklin Patients Say
At Hoffart Chiropractic we love when patients share with us their feedback and comments after chiropractic care. Please read our patient testimonials below to see what other people have achieved through their tailored treatment plans with us.
Share your stories too! Click here to send us your feedback so that we can help to spread the word about the benefits of natural Hoffart Chiropractic care.
For more information or to schedule an appointment call or email us today.
---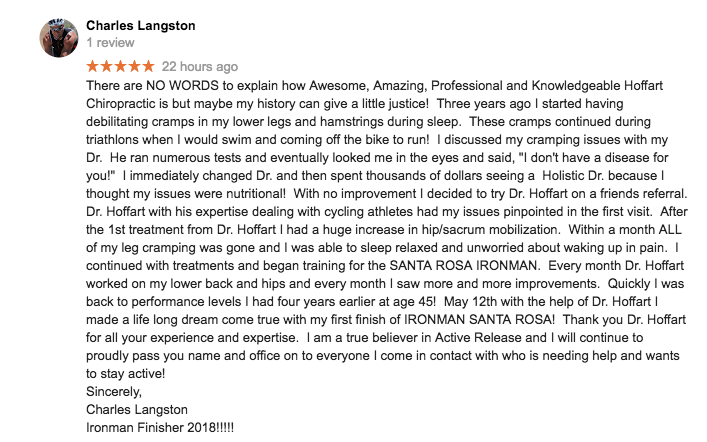 ---
Very friendly and cheerful staff. Dr. Hoffart explained what he was doing, and after my first visit I knew his treatment was benefiting me.

So happy I can bend over again without cringing! Front staff is incredibly welcoming and Dr. Hoffart was able to not only pinpoint my pain. More from Rebekah…»

He doesn't just fix the one part, he works to get all the muscles working so that the body is fully working together like a symphony. So happy I have a place I can go where I understand the problem and then it's solved.

Everybody was very nice and friendly. I appreciate the fact that it's not the "standard" chiropractic methods. My wife is already considering switching chiropractors just because my first visit was so positive.

Great staff, professional good moral… caring

I am so appreciative to you, Dr. Hoffart and your wonderful staff!! They are both wonderful and so friendly and welcoming. I know I am in good hands!

Very professional (entire staff), professional atmosphere, attentive group (way to happy for a Monday morning!). Have already referred a friend!

Very friendly and competent staff. One of the best Chiropractors I have ever been to. I would highly recommend Dr. Hoffart.

Dr. Hoffart seems very knowledgeable, though, and one Atlas adjustment made a more radical difference for me than any other series of adjustments I've ever had done (and I've been getting chiropractic for over 10 years).

Dr. Hoffart exhibits genuine and authentic interaction with his patients. He demonstrates an excellent presence in the initial encounter and has a firm grasp of the physical implications as they relate to the presenting symptoms. The art of listening is significantly underrated, however, Dr. Hoffart has mastered this aspect of patient engagement with clarity and practicality.

Highly recommend Dr. Hoffart and staff!!! Office makes you feel right at home!!! Thank you.

The staff did an excellent job of making sure I felt comfortable and taken care of! Very impressive.

Great team! I felt very welcome and comfortable!

Don't know which I liked better, the staff or the DR. Both were top of the class!!

The staff was wonderful and I really appreciated the online appointment system – I was seen right on time and my issue was addressed during the first visit with a possible follow-up if needed.

I felt very welcomed and listened to by both staff and Dr.

Extremely knowledgeable and thorough. Instant relief experienced

A great group of very helpful people. I have all the confidence in the world, that they will help me with my problem. Thanks again. Looking forward to my next visit.

The staff at the clinic are super friendly, attentive and will make you feel very welcome. I had a very rewarding experience and will definitely recommend.

Dr. Hoffart was very attentive and had me feeling great the second I walked out of his office. I will do the stretches he recommended and hopefully will get back on track. Overall great experience and would highly recommend.

The staff and doctor were very pleasant and helpful. They explained the procedure clearly and answered every question I had.
---
I am very happy with the excellent service and professionalism of the staff at Hoffart Chiropractic. It was my first visit to a chiropractor. Dr Hoffart did a thorough exam, and took ample time to explain my medical condition and what I should expect. Overall, a very pleasant experience. I would recommend Hoffart Chiropractic to friends and family.
Michele D.
---
I appreciate the patience that Dr. Hoffart has as I was trying to explain the discomfort my body had been feeling lately. He heard me clearly and wanted my best interest. I came out of the session feeling amazing and hopeful!
Alejandra C.
---
Thank you for the great care afforded to my Mom and Dad. Dr. Hoffart shows extraordinary compassion and sympathy for my elderly folks and are doing so much better, thanks to him. I need a top notch doc myself now and am so glad I am a new patient with Dr. Hoffart. My first appointment was very informative and he developed a plan of attack I am very comfortable with. I left after my first adjustment with that tense pain in my left shoulder already abating. I can't wait to see him again! Who says that about their doctor?! :)
Beverly B.
---
"Thank you SO much!!!!! After suffering from migraines and headaches for over 20 years, today is probably the first day in a very long time that I actually don't have a headache. I am hopeful that seeing doctor hoffart regularly will help to keep them at Bay. it was so emotional for me to finally have the validation on the screen after an x-ray that there was indeed something wrong. After many many attempts with my primary care physician and just being ignored or sent to the pharmacy I finally have someone who listened."
Jennifer B.
---
"This was my first time to a chiropractor and not what I expected at all. Dr. Hoffart was very thorough in his examination and worked through his initial prognosis. He was very descriptive on the process and what he was reading in his interactions with my joints. Looking forward to working through the process of getting better."
Ryan T.
---
"This is a great team. They make you feel at home. For my first visit, I felt like I have known them for the longest time. Everyone is very nice. I really recommend others to give them a try."
-Yesenia G.
---
"Dr. Hoffart was extremely helpful in providing information about his finding and made sure I understood my condition and what was required to hopefully get me back to 100%. His staffs are amazing, in accommodating appointments based on my schedule. They are friendly and professional, I would recommend them to friends and family."
-Claudia B.
---
"The staff are extremely knowledgeable and friendly! From the moment I walked into the office, I felt comfortable with the team. Dr. Hoffart went over and beyond to take the time to go over in detail anatomy and things that other chiropractors failed to mention. Dr. Hoffart has explained to me my treatment plan and his goal and that my ailments are not an overnight fix, but he is up for the challenge!
I can't thank him and his staff enough for all that they do. I always look forward to going to my appointment because I know I am in good hands!"
-Rachel L.
---

"Dr. Hoffart is the ultimate professional. Knowledgeable and so educational at every visit. He made a difference immediately with my back pain and was so clear on the issue and the process of recovery. This is like no other chiropractic office I have visited. Love the staff and all the info shared via website, emails, and visits. Truly a guru in his field who clearly loves what he does. They treat patients with kindness and are all around great human beings. They receive my highest recommendation."
-Martha C.
---
¨You guys are great!! The staff is super friendly and always a pleasure to work with! I always look forward to their upbeat personalities! Dr. Hoffart is extremely knowledgeable! From the moment that he examined my back and neck, he knew exactly where my problem was just by touching my spine. The techniques he uses are so different and I have full confidence that he will help me get back to a pain-free life!¨
-Amy M.
---
"I am very glad Dr. Hoffart does this very unique procedure, I have very extensive medical conditions and he is the Best practitioner for my needs. I was in a lot of pain and had neurosurgery 2 months prior. I walked in his office with leg spams and difficulty walking and in a lot of pain. He has strengthened my back, leg and hip muscles with the atlas orthogonal treatment.
I was able to walk much better after the 1 st treatment, and have continued to get better every day since. My general pain is reduced, I eat and sleep better I have a long way to go but I feel so blessed to have found Dr. Hoffart, I also have other family members that are seeing him for other conditions.
If you are like me with sensitive and serious conditions and are afraid of conventional chiropractic treatments I strongly suggest you see Dr. Hoffart. His staff is very compassionate and caring too, overall a very great experience I always look forward to my treatments."
-Sunita P.
---
"From the moment I spoke to Shanon on the phone, I felt welcomed. Such friendly service and I was able to get in on short notice. Dr. Hoffart was very knowledgeable and addressed my issues. I felt like I was on the road to recovery almost immediately after he worked the affected areas. I had never been to a Chiropractor before but heard and read about so many happy clients. I am so glad I came into the office to see the doctor. Great experience!"
-Lynn R.
---
Hoffart Chiropractic Reviews | (916) 632-8315