What to Expect
Your First Visit to Hoffart Chiropractic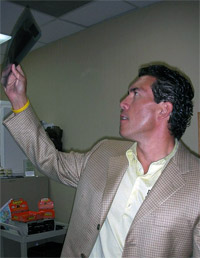 Our Rocklin chiropractic office is easy to find on the corner of Fairway and Stanford Ranch. You will find plenty of parking in front of our office. Entering our office you will be greeted by Alana and be asked to complete some initial paperwork detailing your medical history and insurance information. Remember to bring your Insurance card!
Your time and health are important to Rocklin chiropractor, Dr. Hoffart and he strives to see patients at the time your appointment was scheduled. Our goal is to have you seen by the doctor within 5 minutes of your scheduled appointment.
Dr. Hoffart will discuss your health, your goals and see if our unique application of Chiropractic and Active Release Technique is likely to help you. The doctor will personally meet with you to discuss your condition and determine if an exam would benefit you. The exam process is comprehensive, but focused on your biomechanical and neurological needs.
If you have a condition/issue that Dr. Hoffart truly feels will benefit from working together, he will discuss with you his findings and how he would suggest treating your condition. If you have been to other chiropractors in Rocklin, you will find that Dr. Hoffart's approach to healing your pain is quite different. No two patients are alike and each treatment is customized to their specific conditions and needs.
Second Visit
Dr. Hoffart will carefully review your health history and correlate his findings from your examination and any changes from your first visit. He will recommend a treatment program specifically designed for you to help you get and keep your health.
Our two visit approach will reduce the length of your first visit, but will also provide information for what adjustments relieved your pain from the initial exam and where to modify your treatment plan.
Depending on your unique situation and Dr. Hoffart's professional judgment, he will sometimes make exceptions to the two visit evaluation approach.
Regular Visits
Your regular visits will be much shorter than the first two visits. A typical office visit usually requires just five to ten minutes. After the initial groundwork is laid, Dr. Hoffart will quickly size up the condition of your nervous system and tissues and adjust/ART you as needed and get you on your way.
Momentum in your recovery carries visit to visit, building on the prior treatment. Because your condition(s) are specific to you, you may notice that each visit has a new or slightly different approach. This is based on your body's response to each adjustment.
You will never be treated with a one size fits all approach. We will also value your time and do everything possible to run on schedule. Call Hoffart Chiropractic and schedule your appointment today. The road to wellness begins here.
CONTACT US »
---
New Patients | (916) 632-8315